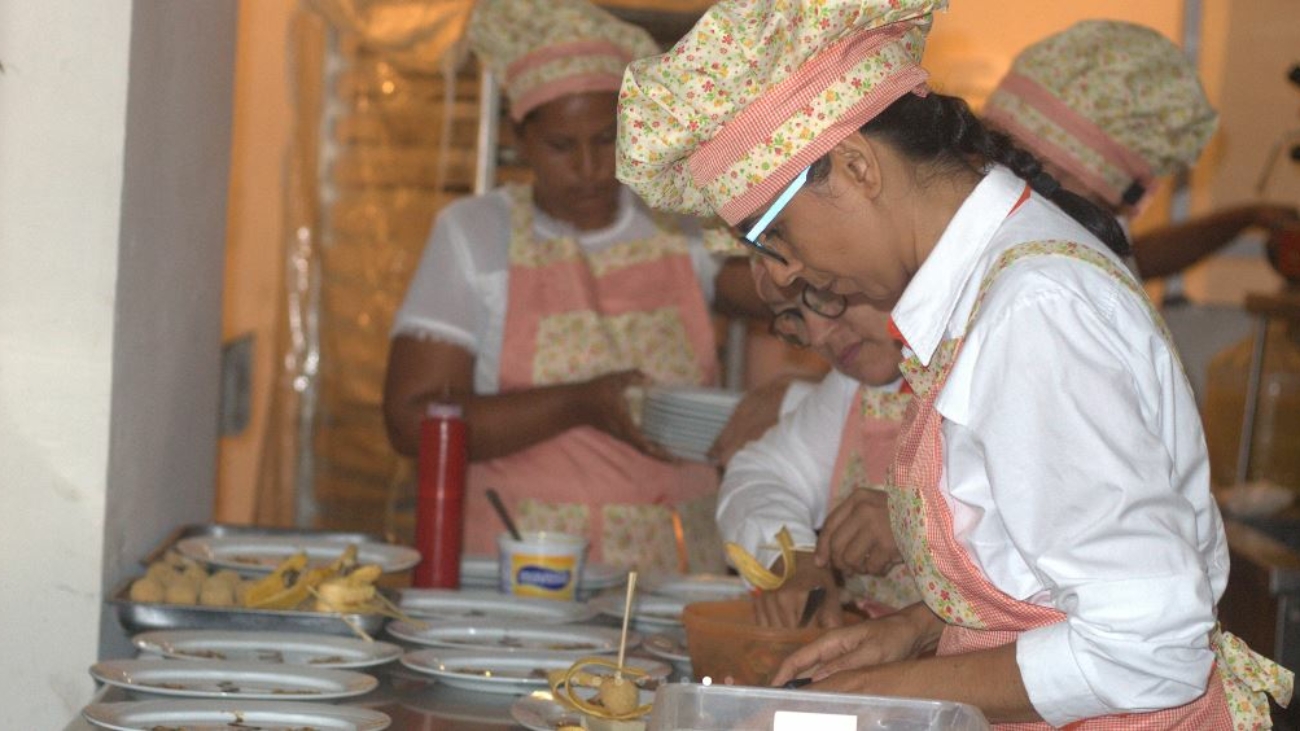 In February, the 29 participants of the I cohort of the Guarenas-Venezuela Gastronomía360 program, Work and Person program, presented their dishes. There were four days full of native flavors that were made in the facilities of the La Fogata Restaurant in Guatire. The jury was made up of: Bishop Tulio Ramírez, Bishop of the Diocese of Guarenas; prof. Marlene Berrios, director of ECC KKO Real; José Alí Machado and Desirée Aldana, directors of Cáritas Guarenas; Ocarina Castillo, gastronomic anthropologist; Abg. Luis León from the Zamora Real Estate Chamber; Karla Montenegro, manager of Forum Guarenas; prof. Graciela Barreto, director of the school, and chef Damián Boada.
Also present were: Father José Antonio Barrera, Vicar General of the Diocese of Guarenas; prof. Marianne Robles; chef Víctor Moreno from the Restaurant Moreno Caracas; Julio Polanco, a merchant from Guarenas; chef Miguel Pérez, organizer of Guatire Gastronómico; Luis Leal from Guatire.com; the chefs and directors of the El Pan Nuestro Gastronomic Center, Mireya Rojas and Victor Caraballos; in addition to the instructors and chefs, Plutarco and Elisa Fernández.
As special guests attended: Inés Ruiz and representatives of the Food Safety cluster, Marcos Selva, Giulia Baldi and Elizabeth Fadul; Sara Medina from the KPMG Foundation; Sofia Toffano and Cristoforo Furst from CAVENIT; Rafael Ávila from the Monteávila University, and Clara García, intern at the Department of Culture of the Embassy of Spain. The participants were the protagonists with their preparations, in addition to sharing their life stories with those present.
Chef Víctor Moreno highlighted the value of artisan work and the drive of the entrepreneurs, encouraging them to maintain their love for the art of cooking. Chef Mireya Rojas expressed her pride in the work accomplished. As a result of the emotional presentations, members of the jury and guests offered the entrepreneurs internships, the opportunity to do a masterclass at a gastronomic fair, and a website. "Only by working together has it been possible to continue crystallizing initiatives like these," highlighted Alejandro Marius.
Gastronomy360
It is a training program in gastronomic entrepreneurship for women in vulnerable situations in the towns of Carúpano, El Tocuyo, Valencia and Guarenas. After being trained, these women volunteer in soup kitchens for children at risk of malnutrition. If you want more information about Trabajo y Persona and its initiatives visit: www.trabajoypersona.org