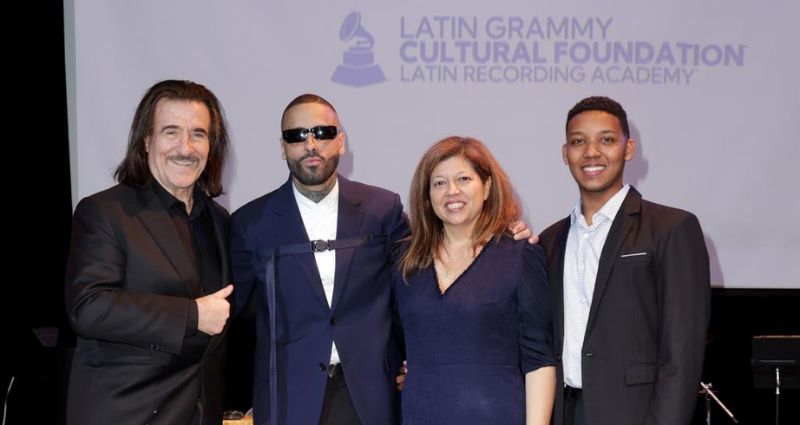 The Latin GRAMMY® Cultural Foundation awarded the Nicky Jam Scholarship to Dominican pianist Leomar Cordero during a special presentation with the artist in Miami, at which the Latin GRAMMY® winner appeared with Cordero and additional scholarship recipients.
Also known as the Prodigy Scholarship and sponsored by a Latin music idol, it was created nine years ago to support music education and the Latin music genres. It has a maximum value of $200,000 and will allow Cordero to pursue a bachelor's degree beginning this fall at Berklee College of Music in Boston. Among the past sponsors are: Sofia Carson (2022), Juanes (2021), Julio Iglesias (2020), Emilio and Gloria Estefan (2019), Carlos Vives (2018), Miguel Bosé (2017), Juan Luis Guerra (2016 ) and Enrique Iglesias (2015).
Cordero is a 19-year-old musician from La Romana who was selected by the Foundation's Scholarship Committee from a very competitive pool of hundreds of applicants from around the world. Since its inception, the Latin GRAMMY Cultural Foundation has allocated an extraordinary amount of more than $9.3 million to scholarships, grants, musical instruments, and educational programs throughout the United States and Latin America.
"Since the Foundation's inception nearly a decade ago, its unwavering mission has been to support and cultivate the next generation of Latin music creators. It is an honor for me to announce the winner of our ninth Prodigy Scholarship and continue this mission," said Raquel "Rocky" Egusquiza, Executive Director of the Latin GRAMMY Cultural Foundation®. "With the extraordinary generosity of respected music artists like Nicky Jam, we have the unique privilege of nurturing the education of future generations of creators and paving the way for them to unleash their dreams and continue the rich legacy of Latin music."
Nicky Jam shared, "I am overjoyed to join the Latin GRAMMY Cultural Foundation in awarding the Nicky Jam Scholarship to pianist extraordinaire Leomar Cordero. It is about more than a scholarship; it is a symphony of dreams that harmonize with dedication. Witnessing the power of music that unites us all, being part of Leomar's experiences, is an honor that I cannot describe. Through education, we promote the melodies of the future and keep the soul of Latin music alive. Congratulations Leomar. Let your music paint the world with colors that you can only imagine with your heart.
"I am extremely grateful to the Latin GRAMMY Cultural Foundation and Nicky Jam for rewarding my efforts and motivating not only me, but also many dedicated young musicians who share an endless love for music and our rich culture," Cordero said. "I am committed to making the most of this fabulous opportunity and leaving a lasting impact on the world of music."
The Foundation also announced the winners of the Tuition Talent Scholarships and Tuition Assistance Scholarships, which will give 43 talented students from diverse backgrounds the opportunity to study at some of the world's most prestigious music institutions.
Additionally, upon completion of their studies, Cordero and all Tuition Assistance and Tuition Talent Scholarship recipients listed below will have the opportunity to join the newly created Latin GRAMMY Cultural Foundation alumni network. This network, the Latin GRAMMY Cultural Foundation's Scholarship Alumni Network, formalizes the Foundation's ongoing commitment to service beyond scholarships by offering graduates opportunities to mentor current scholarship recipients, network with industry professionals , have access to exclusive events and resources, as well as give back to the community.
Source: Latin GRAMMY
Credit: The Latin GRAMMY Cultural Foundation/Photographer: John Parra/Getty Images
For more images, [click here](https://dam.gettyimages.com/grammy/lgcf-nicky-jam-scholarship-ceremony )